Happy New Year! May the new year bring you health, happiness and new adventures.
I am seeing 20-20, welcoming the new year and all the exciting opportunities it holds. For many years I have dreamed of creating an environmental e-card service for you to stay connected with friends, family and customers in an eco-friendly way.  I feel so connected to nature. Camera gear in tote, I spend a large amount of time trying to capture the unforgettable beauty of nature. My experiences have compelled me to help preserve that incredible beauty. I am always trying to lower my carbon footprint while in addition inspiring others do the same. It is with tremendous excitement that I am able to share with you the release of my NEW E-card gallery. I have assembled a stunning winter collection for you to share including snowflakes and wildlife. Don't forget the fabulous images of fireworks included so you can wish friends and family a Happy New Year!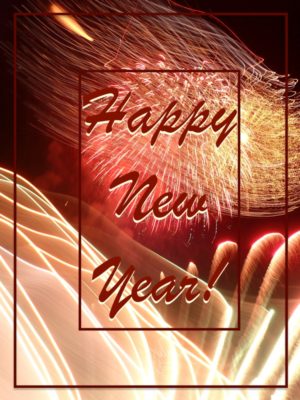 Feature Photo
Simple Snowflakes
Each and every snowflake is a unique moment frozen in time. Over the years I have found that capturing spectacular snowflake images requires 4 things.
  Snow of course, yet all snow is not the same. Some flakes are the stereotypical intricate six pointed "stars", but there are so many more shapes to be found. As the studies of snowflakes grows, so does the number of classifications. To my knowledge there are over 121 various classifications and the number is growing. I love Broad Branch, Standard, Capped Column, Plate and Stellar style formations. All of these unique crystallizations occur when the temperature is just right. A single grain of dust or pollen in a cloud combines with water vapour to start forming a snowflake. The water vapours freeze forming a six sided prism. From this prism branches grow. At about -13 degrees Celsius branches grow again. Then at -14 degrees Celsius side branches grow. The transforming snowflake changes as it passes through altering humidity, warmer air, then colder air. It is pure randomness of events and conditions that creates these unique and stunning snowflake spectacles.
Next needed is a distinctive background. The prism structure of a snowflake can highlight the colours that surround it and help to outline and highlight it's intricate details. It is very hard to move a snowflake. The branches break and the slightest temperature change can melt or alter a snowflake. With that said, where it falls is where I photograph it.
Finally, the last, and very important aspect to photographing snowflakes, is just the right lighting. Sometimes backlit, sometimes illumination from the top or side. Simply changing your angle changes everything.
Honestly, I only ever get all 4 a few times a year. When the conditions are perfect I take advantage and photograph for hours. It is true, no two snowflakes are the same. The photographic opportunities are truly endless! I photograph primarily with my Nikon D850. In addition, I also photograph with an Olympus Tough that I ALWAYS have on me. The quality of my Nikon is incredible, add on a quality Nikon macro lens and I'm set. What you see is what I saw. While I may make some minor adjustments post processing, I prefer to leave my images RAW and unaltered. I guess I'm a little old school and I love the challenge.
  Below is a brand new image just released to my Diverse Gallery. Perfect conditions gifted me the opportunity to photograph this on a beautiful snowy Christmas Day. It is my Feature Photo of the Month, an 11×16 is ON SALE for the month of January 2020.
Wintergreen Magic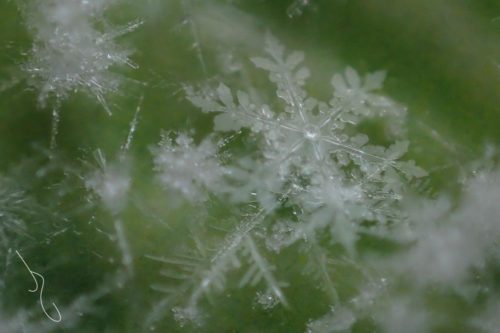 This day held so many stunning snowflake images I couldn't possibly share them all. I could photograph for hours and only have travelled 10 feet. That's the intrigue of macro photography. Discover a world that we seldom see but walk past everyday. It truly is the small things in life that bring me joy. I hope that my images also make you smile.
Thank you for taking the time to view my work. I look forward to sharing more with you in February.
Jennifer Weaver